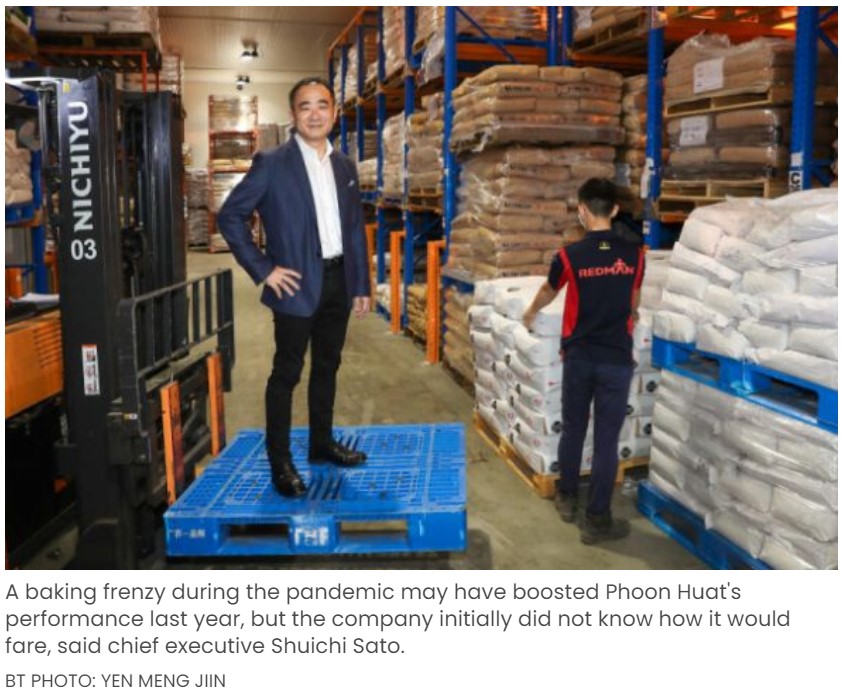 Business Times | 11 Feb 2021 | Lelia Lai
"LOCKDOWN baking" took the world by storm in 2020, and Singapore was no exception. "Circuit bakers" snapped up ingredients such as flour, sugar and vanilla from grocery stores and Phoon Huat outlets.
Because the baking supplier normally transacts in the B2B space, Phoon Huat came up against a shortage of retail-sized products for its new customers – even though it had the ingredients on hand, and available from its direct suppliers in larger quantities.
"We tried our best to produce the retail packs at our factory. Our suppliers cooperated, converted their packing size and supplied those to us," said chief executive Shuichi Sato. "When our customers returned to our shops after a few days, they managed to get the items in most instances."
Some of the measures Phoon Huat implemented to ensure safety at its stores included shorter operating hours, no cross-deploying of staff, limited shopping time and queue management systems. In addition, it set up an online store and started offering online baking classes.
Phoon Huat successfully kept its doors open and achieved its target of about S$100 million in revenue in 2020, but Mr Sato said the company had little idea how the year would turn out, as the pandemic situation was fluid.
"It was difficult to have any expectation or prediction (during this period). We worked to handle the changing needs of our customers that were affected by the evolving Covid-19 situation."
The pandemic gave Phoon Huat the push it needed to transform digitally. It is now seeking external support to further improve its digital capabilities.
Mr Sato said he hopes to continue working closely with the food-and-beverage firms that have been its long-time customers, while leveraging the economies of scale they provide to bring more competitively priced products to its retail customers.
Link to article: https://www.phoonhuat.com/wp-content/uploads/2021/02/210211-Business-Times-Phoon-Huat_Riding-a-pandemic-fuelled-baking-frenzy.pdf