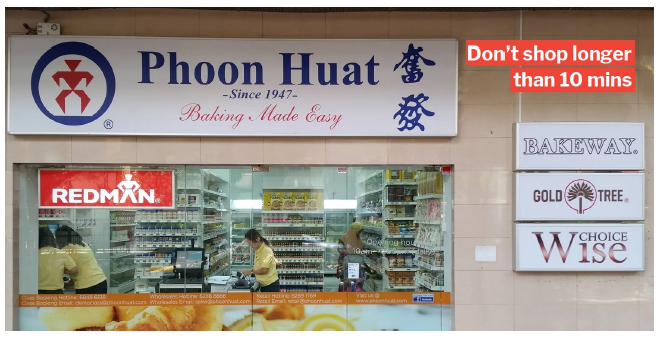 Must Share News | 3 Jun 2020, 11:16 am
Over the course of the 'Circuit Breaker', many Singaporeans have picked up baking as their new hobby to pass the time.
Yet, getting baking supplies during the period proved to be somewhat of a challenge, thanks to long queues and higher demand, among a myriad of other reasons.
Well, if you're planning on baking yourself some delicious bread or pastries this weekend, you might be in for some good news.
As we enter Phase 1 of reopening, popular baking supplies store Phoon Huat announced via a Facebook post on Tuesday (2 Jun) that it will be doing away with its ddd/even dates requirement.
In the Facebook post, Phoon Huat said the decision to abolish the system was due to shorter queues and the "easing up" of the current situation.
Despite the removal, they urge customers to follow other safe distancing measures so their store remains safe for everyone.
These include shopping alone, keeping shopping time to under 10 minutes and scanning of SafeEntry QR code before entering their store premises.
All of its outlets are open from 10am-7pm. Check out the nearest store near you via the website here.
Introduced entry restriction based on last digit of NRIC/FIN Earlier last month, Phoon Huat – as well as its subsidiary, Redman – introduced the ddd/even dates entry system in early May that only allowed access to shoppers according to the last digit of their NRIC/FIN.
The measure was aimed at cutting down the long lines seen outside the stores.
The removal of the Odd/Even Dates entry restriction at Phoon Huat will certainly come as great news for Circuit Bakers who picked up baking during the 2-month 'Circuit Breaker'.
That said, please adhere to the measures put in place by the store to help keep everyone safe
Link to article: https://www.phoonhuat.com/wp-content/uploads/2020/09/200603-MustShareNews-Phoon-Huat-Shoppers-Can-Now-Enter-Everyday-Odd_Even-Entry-System-Removed-On-2-Jun.pdf